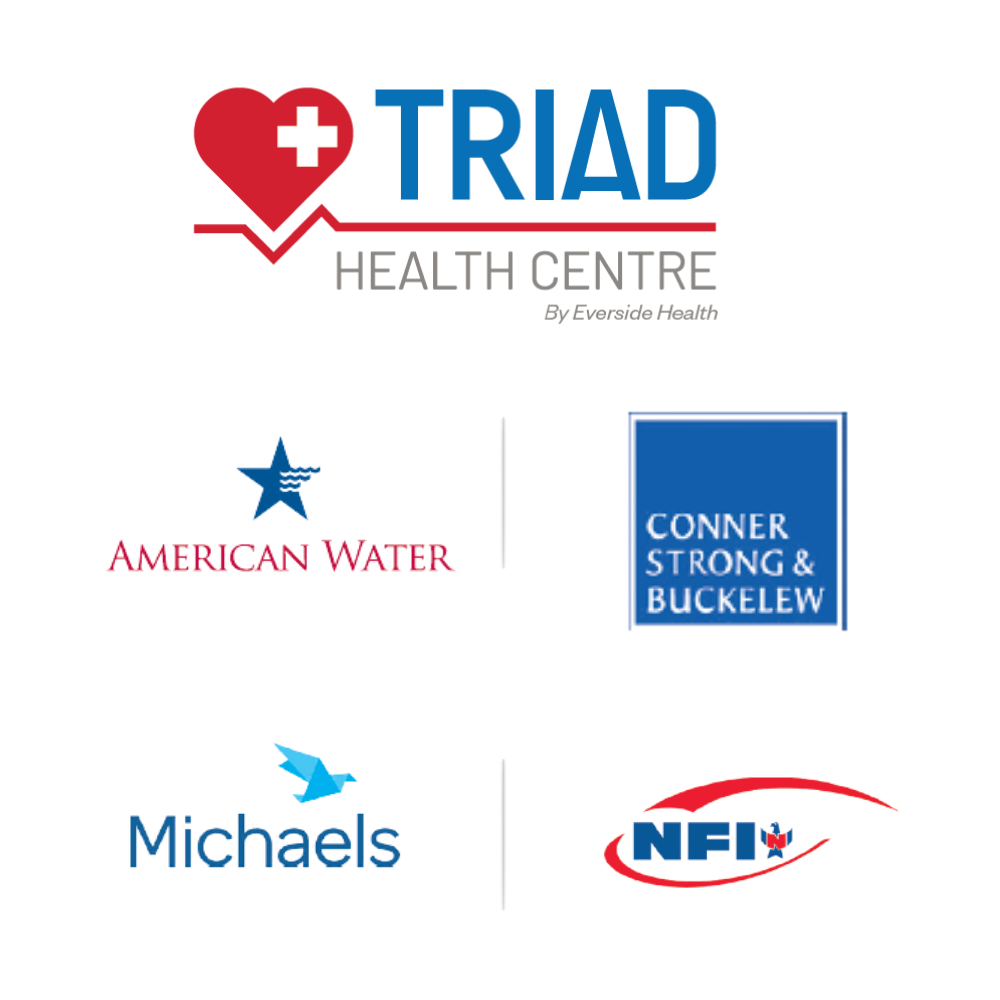 The TRIAD Health Centre was developed specifically for the employees of American Water, Conner Strong, NFI, and The Michael's Organization to serve as a valuable resource for your health needs.
As a TRIAD Health Centre member, you can get care for nearly every health issue where it's easiest for you: in-person, online, or over the phone. The TRAID Health Centre offers same-day and next-day appointments for urgent needs, evening and weekend hours, and you can talk to your provider even after hours. The Centre also has various onsite medications and labs.
There are set low fees to access the TRIAD Health Centre. The fees are as follows: $20 with a PPO plan, $40 with a High-deductible health plan, $85 for employees not enrolled in your company's health plan. There is no cost for well or preventive visits, with the exception of those not enrolled in your company's health plan. If you have a fee, you will pay the fee amount at the time of your appointment. Fees are only for in-person, not virtual, visits. If you have a high deductible health plan and have met your deductible, a fee will not apply.
Find a Health Center Near You
Locate a convenient Everside site for your visit.
Get Personalized, Complete Care
Get Care When You Need It Most
With same-day or next-day appointments near you (or online), you'll spend less time waiting and more time with your care team. And you can reach them 24/7.
We cover your entire healthcare journey, from routine care to chronic condition management to urgent care and more.
Our providers take the time to get to know you so they can create a care plan that meets your unique needs.
Your Questions, Answered.
What is Everside Health?
Everside Health is a national onsite, near-site, and virtual primary care provider that offers employer/organization-sponsored, membership-based healthcare. That means that
we operate patient-centered health centers where members can get 90% of the medical services they need from an experienced provider, usually at little to no cost to them. Everside providers are dedicated to your healthcare and are easy to reach at convenient locations near your home or work, as well as virtually (by phone or video). Our providers strive to provide a personal level of care and are available around the clock by phone for urgent health matters.
Why is this benefit being offered?
Employees, employers and insurance companies have seen significant healthcare cost increases each year; we're on a mission to fix the broken healthcare delivery model that causes them. With Everside Health, you gain an additional choice to address the cost and quality of the healthcare you receive. Your membership gives you high-quality, low- or no-cost primary care through your Everside provider.
Who's eligible to receive Everside services?
The Centre was developed specifically for the employees of American Water, Conner Strong, NFI, and The Michael's Organization to serve as a valuable resource for your health needs.
What's different about Everside compared to my current primary care provider?
As an Everside member, you have 24/7 access to your care team for urgent needs. You can receive a scope of virtual and in-person services that includes everything from routine checkups and urgent needs to chronic condition management, mental health screenings, wellness counseling, and more. Additionally, your Everside provider has more time in an appointment to listen to your specific concerns, goals, and needs and can help support healthy lifestyle changes that make sense to you.
How are Everside's virtual care services different from other telemedicine services?
Most telemedicine services will connect you with whatever provider is available and will direct you to an urgent care center when necessary. With Everside's virtual care (by video or phone), you'll see the same provider every time, one who knows your needs, goals, and health history. Additionally, this provider is available to meet in-person, should you need it.
Does choosing the Everside option increase my healthcare costs?
No, it should do just the opposite. A visit to an Everside provider can save you an expensive trip to the emergency room or urgent care, and most visits are at little to no cost for services. There's also no charge for phone, secure messaging or other remote interactions with your provider. There are some tests and procedures that are billed to your primary insurance at rates that are usually much lower than with other providers. Services that aren't covered by your Everside membership may still be covered by your employer's insurance plan.
What makes Everside providers different?
Everside providers see 70% fewer patients than a typical primary care provider, allowing them to spend more time with you when you need it, start appointments on time, and provide you with flexible appointment availability. They also believe in caring for the whole person — physical health, mental health, exercise and nutrition — that's affordable and accessible for all.
Can I use Everside but still keep my primary care provider (PCP)?
Yes, in most cases you can keep seeing your established PCP as well as any specialists you currently use. Your Everside provider can serve as a supplement to your established care. Of course, your Everside providers would be delighted to also serve as your PCP, if you'd like to switch.
Why should I consider using an Everside provider as my PCP?
We recommend that you make your Everside provider your first point of contact for any health concerns. They provide a personalized level of service and can also help you manage your overall care. So, instead of waiting to see a specialist to receive care, you can take advantage of the variety of services offered at your health center and through virtual care. We recommend that — immediately after signing up — you schedule your welcome appointment so your provider can get to know you, your health history and concerns, and answer any questions you may have.
What happens if I experience an urgent health issue after hours or if I'm away from home?
Your health center has an after hours call center that is available 24/7. This means that you can call the health center anytime to reach your care team and explain the health issue. They'll work with you on what to do for your situation, whether it's addressing your concern virtually, scheduling an appointment for the next business day, or directing you to the most appropriate local care setting.
How's Everside different from an urgent care clinic?
Your Everside health center is not an urgent care or walk-in clinic, though we provide many services that can help avoid an urgent care visit. Scheduling your appointment for same-day or next-day needs allows you to get in at your preferred time. You won't experience the long wait times that are common at walk-in clinics. You can also choose to schedule a virtual appointment with a trusted provider from the comfort of your own home.
Does Everside make it easier for me to manage medication refills and dosage changes?
Yes, your Everside provider can help to manage your refills and dosage changes. Simply call your health center for more information. Certain refills can be handled remotely by phone or online, without the need for an in-person office visit.
Should I wait until I'm sick to establish care with my Everside provider?
Everside is always here for you if you're ill or injured, even if you're a new patient. However, we recommend scheduling your first appointment before you get sick. Doing so allows us to get to know you, your medical history, and your health priorities. Plus, Everside employs screening protocols that may catch a health issue early on, before it becomes urgent or chronic.
How do I sign up?
Visit members.eversidehealth.com to create your online account and get started. Or, contact Everside Health member services at 1-866-808-6005 or memberservices@eversidehealth.com.
© 2021